Dear Friends,
It has been a difficult and tumultuous week and our prayers are with all the suffering during this uncertain time.
One bright spot for this weekend is that Saint Andrew church will open for private prayer/adoration and the Sacrament of Reconciliation on Sunday, June 7, 2020. Anyone wishing to attend must have a reservation which can be made at www.standrew.org/reopening. Reservations must be made more than 12 hours in advance. No one will be admitted without a reservation. No walk ups.
Since this opening is very limited, please be reminded that the obligation to attend Mass has been dispensed by Cardinal Cupich during the pandemic.
To connect with the parish community, you are urged to join us virtually on Sunday morning, June 7, 2020 at 11:00am for Your Sunday Connection… Live! We will hold a Zoom call for all parishioners to watch the pre-recorded homily for Sunday, have a chance to share and connect with one another, and even have virtual time for "coffee and donuts." Register to join the call by clicking here.
The remainder of this note is the "Your Sunday Connection" webpage. As you scroll through, read and pray along. A homily message from Fr. Sergio is included.
God our Father, who by sending into the world the Word of truth and the Spirit of sanctification made known to the human race your wondrous mystery, grant us, we pray, that in professing the true faith, we may acknowledge the Trinity of eternal glory and adore your Unity, powerful in majesty. Through our Lord Jesus Christ, your Son who lives and reigns with you in the unity of the Holy Spirit, one God, for ever and ever. AMEN.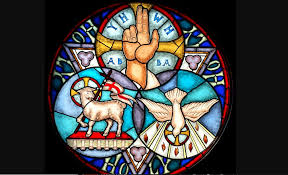 Reading 1                                                      EX 34:4B-6, 8-9
Early in the morning Moses went up Mount Sinai as the LORD had commanded him, taking along the two stone tablets. Having come down in a cloud, the LORD stood with Moses there and proclaimed his name, "LORD." Thus the LORD passed before him and cried out, "The LORD, the LORD, a merciful and gracious God, slow to anger and rich in kindness and fidelity." Moses at once bowed down to the ground in worship. Then he said, "If I find favor with you, O Lord, do come along in our company. This is indeed a stiff-necked people; yet pardon our wickedness and sins, and receive us as your own."
Reading 2                                                      2 COR 13:11-13
Brothers and sisters, rejoice. Mend your ways, encourage one another, agree with one another, live in peace, and the God of love and peace will be with you. Greet one another with a holy kiss. All the holy ones greet you. The grace of the Lord Jesus Christ and the love of God and the fellowship of the Holy Spirit be with all of you.
Gospel                                                           JN 3:16-18
God so loved the world that he gave his only Son, so that everyone who believes in him might not perish but might have eternal life. For God did not send his Son into the world to condemn the world, but that the world might be saved through him. Whoever believes in him will not be condemned, but whoever does not believe has already been condemned, because he has not believed in the name of the only Son of God.
Please click on the video link below to watch the homily for this week.
The Prayers of the Faithful
For the Church, that we may strive to be a visible sign of God's love and mercy in the world today, caring for those most in need. We pray to the Lord.       LORD HEAR OUR PRAYER.
For healing through the work of justice to come to the hearts and minds of all people as we seek to end the sin of racism and mourn the death of George Floyd. We pray to the Lord.       LORD HEAR OUR PRAYER.
That all nations may come to appreciate the value of harmonious relationships with their neighbors, leading to a world filled with peace and understanding. We pray to the Lord.       LORD HEAR OUR PRAYER.
That all families may look to the mutual love of the Holy Trinity as a model, treat each other with kindness and mercy, and so realize the joy of forgiveness and reconciliation. We pray to the Lord.       LORD HEAR OUR PRAYER.
For parents, teachers, catechists, and all those who help us understand and appreciate God's love for us. We pray to the Lord.       LORD HEAR OUR PRAYER.
For those who are affected by COVID19 that God will help them through this terrible time and for the entire world as we face this pandemic. especially for Altagracia Monroy.  We pray to the Lord.       LORD HEAR OUR PRAYER
For the departed, who remain with us in our prayers and our memories, and for the promise of a joyful reunion, and especially for: Nick Masterson, Elaine Lavetta and Tony Murphy. We pray to the Lord.       LORD HEAR OUR PRAYER.
Stewardship of Saint Andrew Parish is the responsibility of us all. Consistently throughout the year, we remind parishioners about stewarding the gifts of Time, Talent, and Treasure to support the mission of Saint Andrew Parish.
During this pandemic, there are many urgent needs, among those needs are caring for the financial obligations of Saint Andrew Parish. If you do not regularly contribute electronically ether weekly or monthly, please consider making a Sunday Offering online through Give Central through the link below.
In many places in the world receiving Holy Communion is not possible. Catholics in these areas are encouraged to make "Spiritual Communion." St.Teresa of Jesus wrote about this practice:
"When you do not receive communion and you do not attend Mass, you can make a spiritual communion, which is a most beneficial practice; by it the love of God will be greatly impressed on you"
You can make Spiritual Communion by the bringing this prayer to your heart…
"My Jesus, I believe that you are in the Blessed Sacrament. I love you above all things, and I long for you in my soul. Since I cannot now receive you sacramentally, come at least spiritually into my heart. As though you have already come, I embrace you and unite myself entirely to you; never permit me to be separated from you. Amen."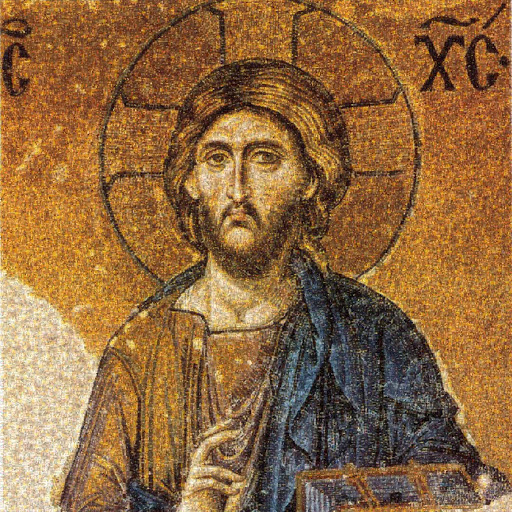 May receiving this Sacrament, O Lord our God, bring us health of body and soul, as we confess your eternal holy Trinity and undivided Unity. Through Christ our Lord. AMEN
Father's Day Gift Baskets
Saint Andrew is offering gift baskets for Father's Day featuring bratwurst from Paulina Market and beverages from Bitter Pops. Packages must be pre- ordered and will be picked up from Bitter Pops. Information on ordering will be available early next week.
Please click on the button below to see a copy of the Sunday Bulletin.