Pastoral Letter from Pastoral Associate, David Heimann, M.Div.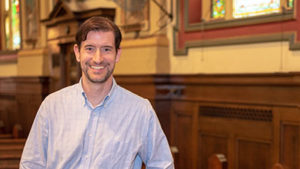 There is a certain challenge that the Gospel this weekend brings. The Prodigal Son comes home to his father who is relieved beyond belief to see his son "who once was dead, but has come back to life, was lost but now is found." The father's joy smacks up squarely against the obedient older brother who has some pretty strong opinions on how unfair their household is running.
This past week, the same contrast was viscerally apparent to me from within our own parish household. If you haven't noticed on the northwest corner of Addison and Paulina, the air is a little thinner and sunlight hits the streetscape a little more as the Annex Building to our school came down. 
The event was years in the making. Page 6 of the bulletin, shows a rather large new debit in the Enrich, Expand, Grow Capital Campaign as the parish met another one of its long term goals in the planned demolition of the annex. For many people, there was a sense of joy. At last, the dream of a school addition was taking shape. Our sacrifices and donations overcame the relentless obstacles of bureaucratic tie-ups and we are on the way to success! Yay!
Except when we announced it on social media, the exact opposite reaction occurred. Dozens of people were saddened, concerned, perhaps even angry. The Annex had been a place of refuge and joy. Memories were made there and its demolition, however necessary, brought about pain and loss. 
I'm not purporting that decisions always need to make everyone happy. We all know it is impossible to make everyone happy. But just like the story of the Prodigal Son in which the father is tasked with figuring out how to be a family once again, we are tasked to walk with each other in the journey of life. 
The story and our parish journey are reflective of the global Catholic Church in March of 2022. The Universal Church is engaged in a world wide dialogue that will culminate in a Synod of Bishops next year. The word "synod" literally means "to walk with one another" and the Pope has declared this synod will be a "synod on synodality." In his own way, he has invited us to talk about how it is we talk. 
There is so much division in the world and even in the Catholic Church. Based on this week's Social Media, there is even division in our own parish. How do we walk with each other? Respecting the different journeys and challenges we face? It's a deep conversation worth having and that conversation starts with us. 
A webpage has been created on our site that asks for your thoughtful and prayerful response to the questions of the 2021-23 Synod. We would ask that you take some time this week to visit the page and complete the online form which will be brought to Archbishop Cupich and our bishops as they prepare for the next steps of the synod. In this way, may we take active steps in walking together. Please participate by visiting http://standrew.org/synod-2021-23/