Dear Friend,
We hope you are having a fantastic week!
As more people become vaccinated and hope increases for the lasting cession of the pandemic, the Archdiocese has given permission for parishes to increase their capacity while still maintaining the measures which helped us safely worship throughout the height of the pandemic.
Starting this weekend, we will have increased capacity at both the 9:00am and 11:00am Masses. We no longer are asking parishioners to aim for only periodic attendance at Mass. This request was originally made in order to allow fellow parishioners to attend given our limitations. We can and do encouraging more regular participation, especially from those who have already been vaccinated.
To help us maintain the safety protocols for everyone, we still ask for a reservation to be made and for masks to be worn while in the church. This is done out of respect and sense of comfort for those who cannot or have not been vaccinated.
Make your reservation to attend Mass at www.standrew.org/mass-reservations. 
If you cannot attend in person, please participate by watching the live stream of Mass at Saint Andrew at www.standrew.org/sundaymass. It is available in real time and also as a recording.
The remainder of this webpage is the Your Sunday Connection which is provided for you to pray at home with your household the prayers and readings of Sunday Mass.
Gladden us with holy joys, almighty God, and make us rejoice with devout thanksgiving, for the Ascension of Christ your Son is our exaltation, and, where the Head has gone before us in glory, the body is called to follow in hope. Through our Lord Jesus Christ, your Son, who lives and reigns with you in the unity of the Holy Spirit, God, for ever and ever. AMEN.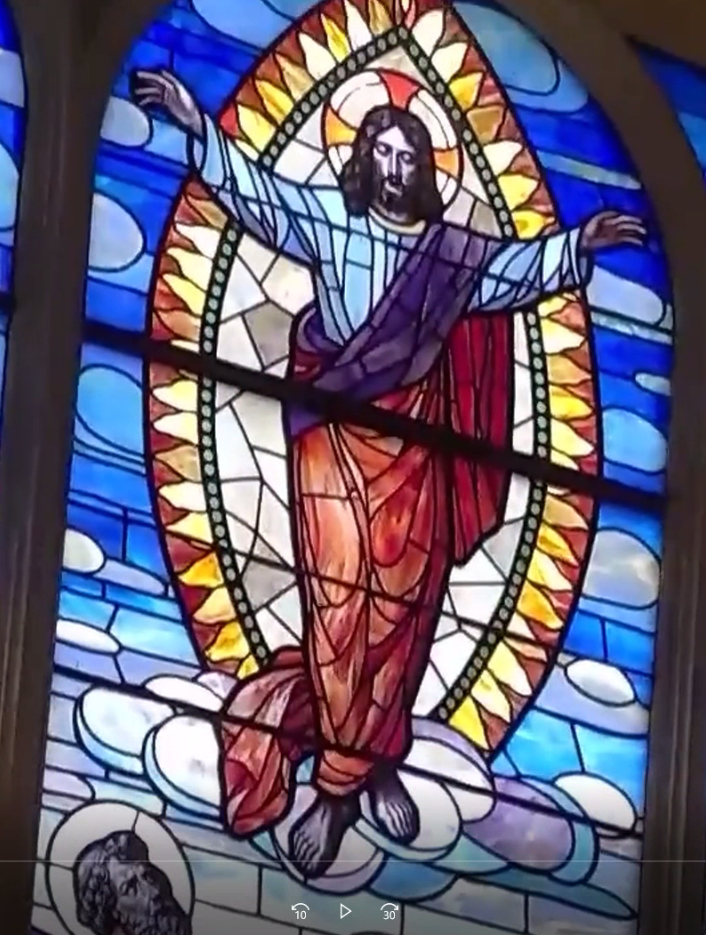 Reading I            Acts 1:1-11
In the first book, Theophilus, I dealt with all that Jesus did and taught until the day he was taken up, after giving instructions through the Holy Spirit to the apostles whom he had chosen. He presented himself alive to them by many proofs after he had suffered, appearing to them during forty days and speaking about the kingdom of God. While meeting with them, he enjoined them not to depart from Jerusalem, but to wait for "the promise of the Father about which you have heard me speak; for John baptized with water, but in a few days you will be baptized with the Holy Spirit."
When they had gathered together they asked him, "Lord, are you at this time going to restore the kingdom to Israel?" He answered them, "It is not for you to know the times or seasons that the Father has established by his own authority. But you will receive power when the Holy Spirit comes upon you, and you will be my witnesses in Jerusalem, throughout Judea and Samaria, and to the ends of the earth." When he had said this, as they were looking on, he was lifted up, and a cloud took him from their sight. While they were looking intently at the sky as he was going, suddenly two men dressed in white garments stood beside them. They said, "Men of Galilee, why are you standing there looking at the sky?
This Jesus who has been taken up from you into heaven will return in the same way as you have seen him going into heaven."
Reading II         Eph 1:17-23
Brothers and sisters: May the God of our Lord Jesus Christ, the Father of glory, give you a Spirit of wisdom and revelation resulting in knowledge of him. May the eyes of your hearts be enlightened, that you may know what is the hope that belongs to his call, what are the riches of glory in his inheritance among the holy ones, and what is the surpassing greatness of his power for us who believe, in accord with the exercise of his great might, which he worked in Christ, raising him from the dead and seating him at his right hand in the heavens, far above every principality, authority, power, and dominion, and every name that is named not only in this age but also in the one to come. And he put all things beneath his feet and gave him as head over all things to the church, which is his body, the fullness of the one who fills all things in every way.
Gospel             Mk 16:15-20
Jesus said to his disciples: "Go into the whole world and proclaim the gospel to every creature. Whoever believes and is baptized will be saved; whoever does not believe will be condemned. These signs will accompany those who believe: in my name they will drive out demons, they will speak new languages. They will pick up serpents with their hands, and if they drink any deadly thing, it will not harm them. They will lay hands on the sick, and they will recover."
So then the Lord Jesus, after he spoke to them, was taken up into heaven and took his seat at the right hand of God. But they went forth and preached everywhere, while the Lord worked with them and confirmed the word through accompanying signs.
Please click on the video link below to watch the homily for this week.
The Prayers of the Faithful
For the Church, as we seek the unity that Jesus desired.
We pray to the Lord. LORD HEAR OUR PRAYER.
For our leaders, that they may be blessed with wisdom, resolve, and perseverance as they pursue justice and fairness for all, especially for those who have been victimized by injustice and discrimination.
We pray to the Lord. LORD HEAR OUR PRAYER.
For all who hear God's call to serve the Church, at any age and in any capacity, that they may respond with an open mind and a generous heart.
We pray to the Lord. LORD HEAR OUR PRAYER.
For our Confirmandi, Martha-Margaret Cotton and Karen Zemanick, and all who are praying with him in this beautiful sacramental celebration today. That our hearts might always be places where the gifts of the Holy Spirit will grow. We pray to the Lord. LORD HEAR OUR PRAYER.
For all who have been affected by COVID19, may God's healing presence be comfort to them and bring health and well-being.
We pray to the Lord. LORD HEAR OUR PRAYER.
For the departed, who remain with us in our prayers and our memories, and for the promise of a joyful reunion, and especially for +Ernesto Villacarlos We pray to the Lord. LORD HEAR OUR PRAYER.
Stewardship of Saint Andrew Parish is the responsibility of us all. Consistently throughout the year, we remind parishioners about stewarding the gifts of Time, Talent, and Treasure to support the mission of Saint Andrew Parish.
During this pandemic, there are many urgent needs, among those needs are caring for the financial obligations of Saint Andrew Parish. If you do not regularly contribute electronically ether weekly or monthly, please consider making a Sunday Offering online through Give Central through the link below.
Sometimes, receiving Holy Communion is not possible. Catholics in these cases are encouraged to make "Spiritual Communion." St.Teresa of Jesus wrote about this practice:
"When you do not receive communion and you do not attend Mass, you can make a spiritual communion, which is a most beneficial practice; by it the love of God will be greatly impressed on you"
You can make Spiritual Communion by the bringing this prayer to your heart…
"My Jesus, I believe that you are in the Blessed Sacrament. I love you above all things, and I long for you in my soul. Since I cannot now receive you sacramentally, come at least spiritually into my heart. As though you have already come, I embrace you and unite myself entirely to you; never permit me to be separated from you. Amen."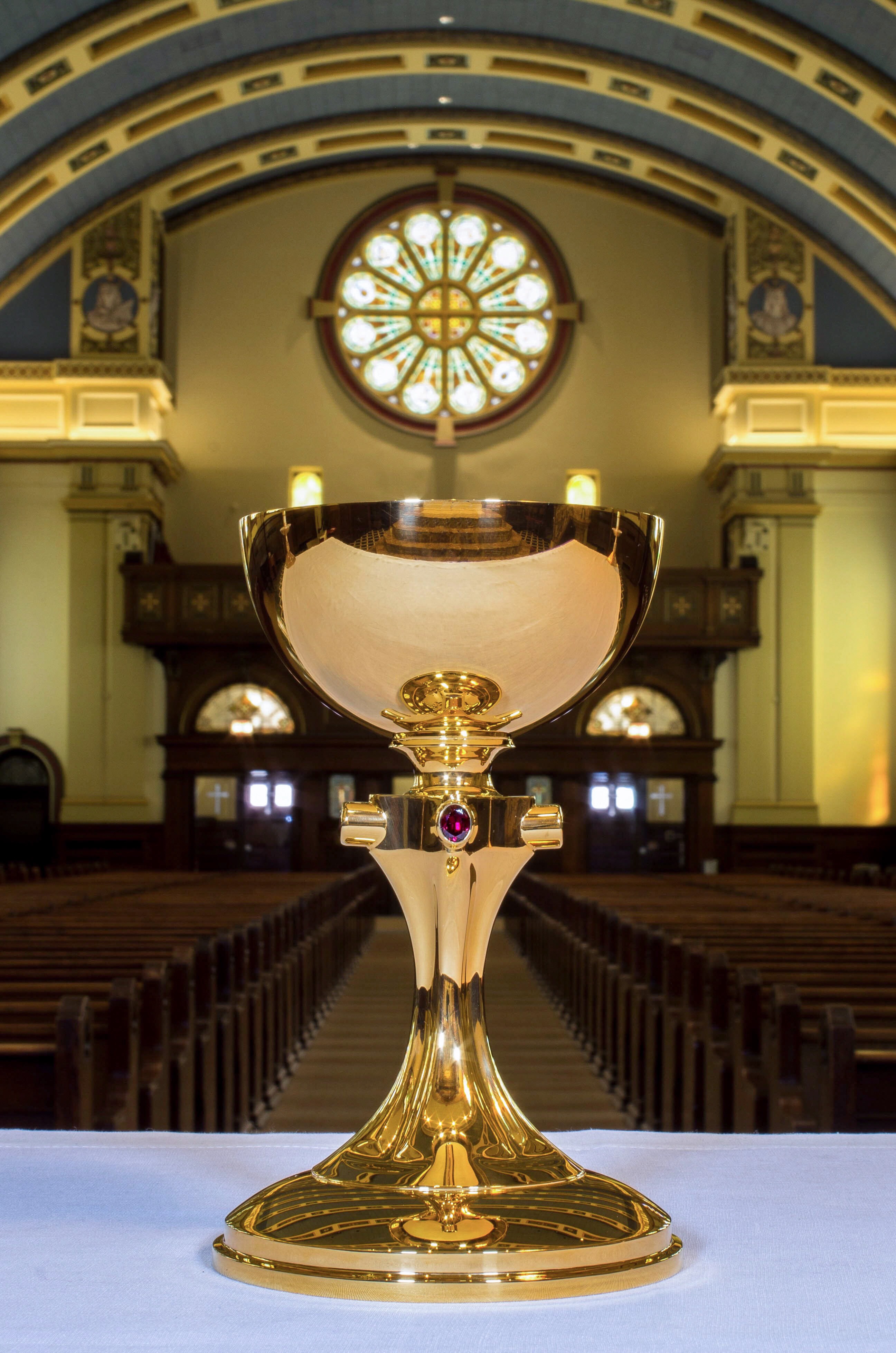 Almighty ever-living God, who allow those on earth to celebrate divine mysteries, grant, we pray, that Christian hope may draw us onward to where our nature is united with you. Through Christ our Lord. AMEN.
Live Stream Mass
In addition to 
Your Sunday Connection
 provided by Saint Andrew Parish, the Sunday 9:00am Mass will be live streamed. 
Join the broadcast.
Please click on the button below to see a copy of the Sunday Bulletin.