Dear Friend,
We hope you are having a great weekend and will enjoy a wonderful Father's Day! Let us keep in our prayers all our fathers, living and deceased, and ask God to bless them and support them in their important roles to love and care for their families.
As we invite you to pray with us this weekend, we have a special announcement….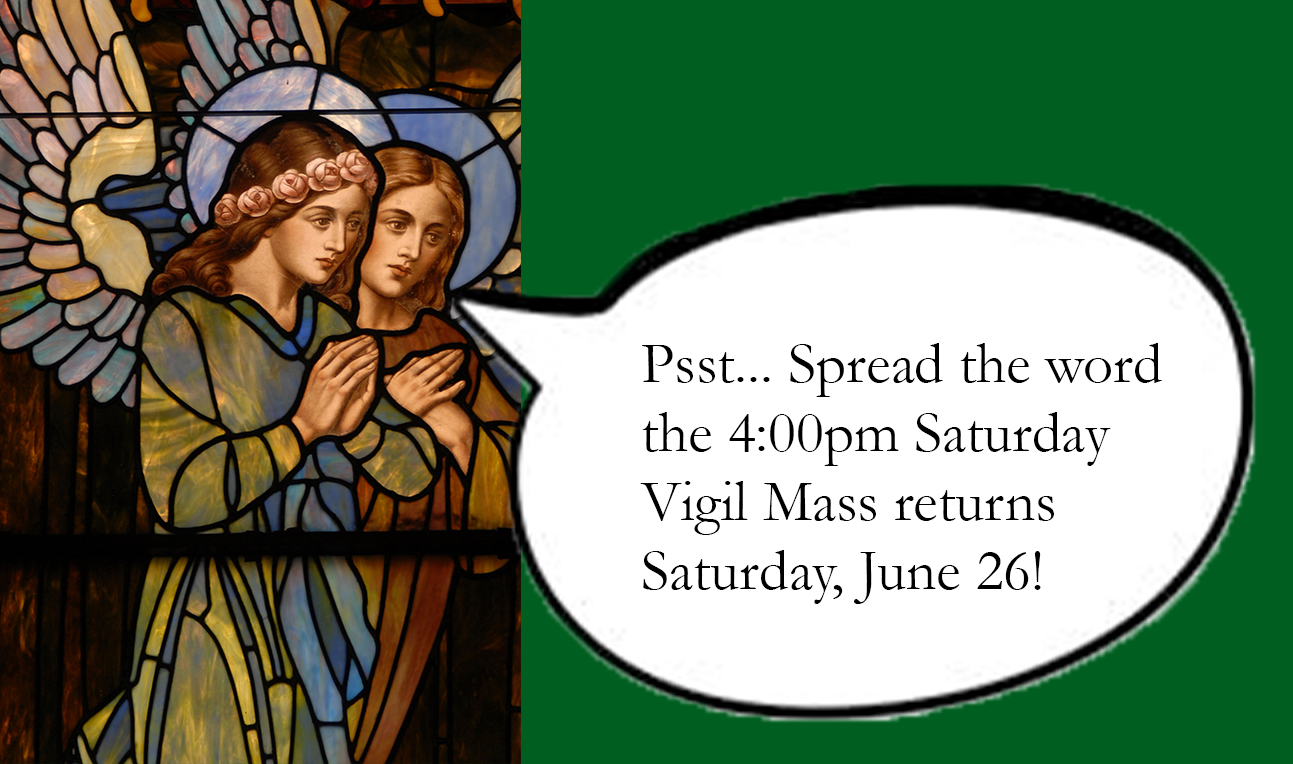 We look forward to the return of the Saturday Vigil Mass next week! For this weekend, Mass will be celebrated on Sunday morning at 9:00am and 11:00am
Reservations are no longer required to attend Mass but the following safety measures are still in place.
Masks are required to be worn in church buildings unless you are vaccinated.
Everyone is encouraged to wear masks and those not vaccinated must wear masks.
Spacing between seating will continue for parishioners with one pew in between each grouping.
If you cannot attend in person, please participate by watching the live stream of Mass at Saint Andrew at www.standrew.org/sundaymass. It is available in real time and also as a recording.
The remainder of this webpage is the Your Sunday Connection which is provided for you to pray at home with your household the prayers and readings of Sunday Mass.
Grant, O Lord, that we may always revere and love your holy name; for you never deprive of your guidance those you set firm on the foundation of your love. Through our Lord Jesus Christ, your Son, who lives and reigns with you in the unity of the Holy Spirit, God for ever and ever. AMEN.
Reading I Jb 38:1, 8-11
The Lord addressed Job out of the storm and said: Who shut within doors the sea, when it burst forth from the womb; when I made the clouds its garment and thick darkness its swaddling bands? When I set limits for it and fastened the bar of its door, and said: Thus far shall you come but no farther, and here shall your proud waves be stilled!
Reading II 2 Cor 5:14-17
Brothers and sisters: he love of Christ impels us, once we have come to the conviction that one died for all; therefore, all have died. He indeed died for all, so that those who live might no longer live for themselves but for him who for their sake died and was raised. Consequently, from now on we regard no one according to the flesh; even if we once knew Christ according to the flesh, yet now we know him so no longer. So whoever is in Christ is a new creation: the old things have passed away; behold, new things have come.
Gospel Mk 4:35-41
On that day, as evening drew on, Jesus said to his disciples: "Let us cross to the other side." Leaving the crowd, they took Jesus with them in the boat just as he was. And other boats were with him. A violent squall came up and waves were breaking over the boat, so that it was already filling up. Jesus was in the stern, asleep on a cushion. They woke him and said to him, "Teacher, do you not care that we are perishing?" He woke up, rebuked the wind, and said to the sea, "Quiet! Be still!" The wind ceased and there was great calm. Then he asked them, "Why are you terrified? Do you not yet have faith?" They were filled with great awe and said to one another, "Who then is this whom even wind and sea obey?"
Please click on the video link below to watch the homily for this week.
The Prayers of the Faithful
For the Church, that we may place our trust in God when we are buffeted by storms that leave us feeling powerless and defeated.
We pray to the Lord. LORD HEAR OUR PRAYER.
For our country's leaders, that they may find the courage to fight racism, sexism, discrimination, and inequality so that all people may be treated as we ourselves wish to be treated.
We pray to the Lord. LORD HEAR OUR PRAYER.
For fathers, grandfathers, and all who have fathered us, and for all those fathers who have passed on to eternal life, that God may find favor in them.
We pray to the Lord. LORD HEAR OUR PRAYER.
For all who have been affected by COVID19, may God's healing presence be comfort to them and bring health and well-being.
We pray to the Lord. LORD HEAR OUR PRAYER.
For the departed, who remain with us in our prayers and our memories, and for the promise of a joyful reunion, and especially for +Frank Battendorff,
+Paul A. Huetteman, +Jennifer Stephen, +Cecilla Vinzons and +Patrick Walsh
We pray to the Lord. LORD HEAR OUR PRAYER.
Stewardship of Saint Andrew Parish is the responsibility of us all. Consistently throughout the year, we remind parishioners about stewarding the gifts of Time, Talent, and Treasure to support the mission of Saint Andrew Parish.
During this pandemic, there are many urgent needs, among those needs are caring for the financial obligations of Saint Andrew Parish. If you do not regularly contribute electronically ether weekly or monthly, please consider making a Sunday Offering online through Give Central through the link below.
Sometimes, receiving Holy Communion is not possible. Catholics in these cases are encouraged to make "Spiritual Communion." St.Teresa of Jesus wrote about this practice:
"When you do not receive communion and you do not attend Mass, you can make a spiritual communion, which is a most beneficial practice; by it the love of God will be greatly impressed on you"
You can make Spiritual Communion by the bringing this prayer to your heart…
"My Jesus, I believe that you are in the Blessed Sacrament. I love you above all things, and I long for you in my soul. Since I cannot now receive you sacramentally, come at least spiritually into my heart. As though you have already come, I embrace you and unite myself entirely to you; never permit me to be separated from you. Amen."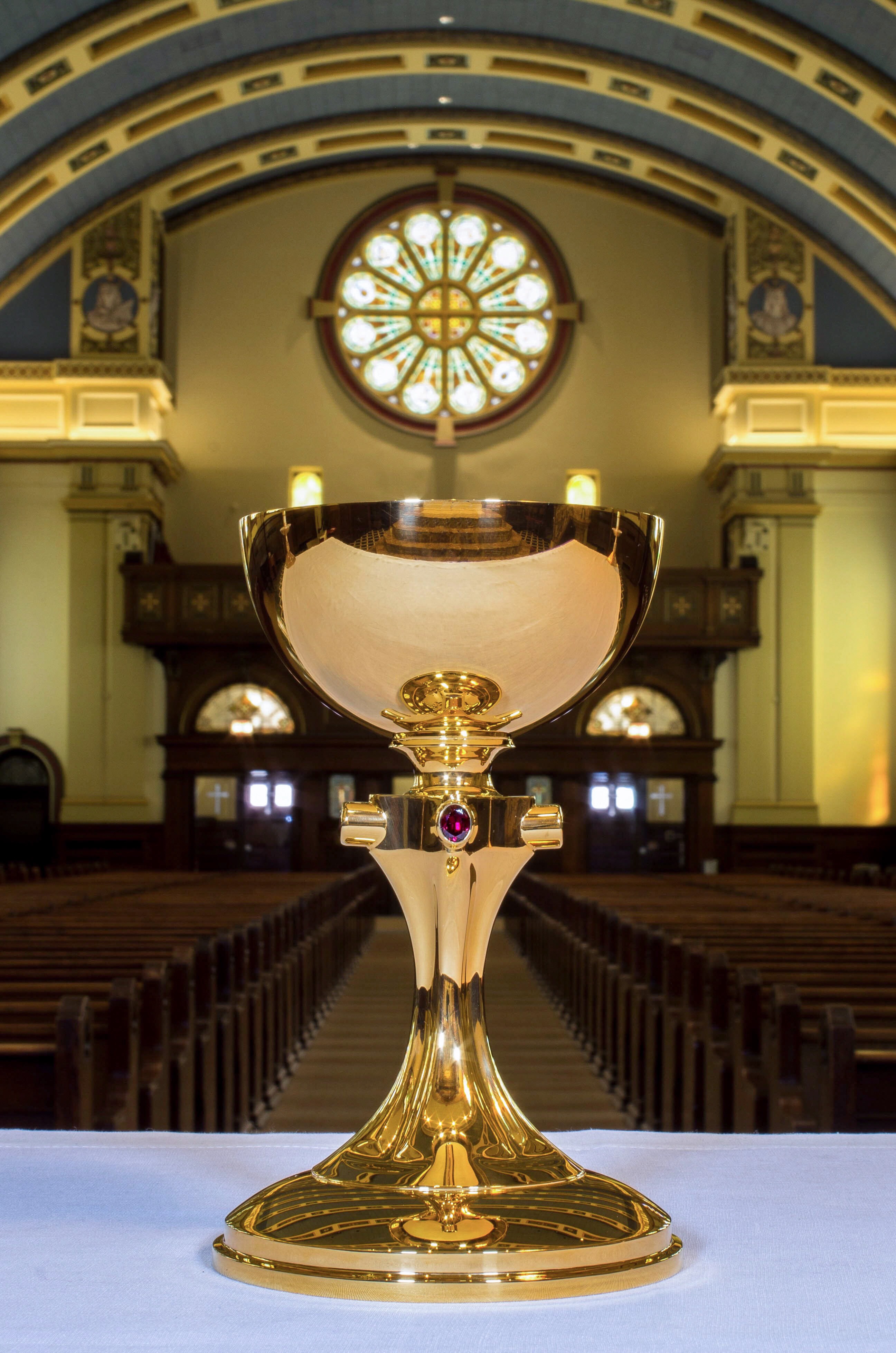 May this communion with you, O Lord, foreshadow the union of the faithful in you and bring about unity in your Church. Through Christ our Lord. AMEN.
In addition to 
Your Sunday Connection
 provided by Saint Andrew Parish, the Sunday 9:00am Mass will be live streamed. 
Join the broadcast.