ear Friend,
As you may have heard, the Archdiocese of Chicago has loosed restrictions on attending Mass as the Chicago enters Phase 5 of reopening. This allows individual parishes more autonomy to mange the planning and celebration of their liturgies.
For all parishes masks are required to be worn in church buildings unless someone is vaccinated. Saint Andrew parish's safety team has examined the new guidelines and will implement the following changes this coming weekend:
– Spacing between seating will continue for parishioners with one pew in between each grouping.
– Everyone is encourage everyone to wear masks and those not vaccinated must wear masks.
– Reservations are no longer needed to attend Mass!
More about these decisions can be found in this weekend's bulletin and more consideration about changes will be made by the safety team, staff, and pastor during the coming week.
Come to join us for Mass this Sunday, June 13, 2021 at 9:00am or 11:00am!
If you cannot attend in person, please participate by watching the live stream of Mass at Saint Andrew at www.standrew.org/sundaymass. It is available in real time and also as a recording.
The remainder of this webpage is the Your Sunday Connection which is provided for you to pray at home with your household the prayers and readings of Sunday Mass.

O God, strength of those who hope in you, graciously hear our pleas, and, since without you mortal frailty can do nothing, grant us always the help of your grace that in following your commands we may please you by our resolve and our deeds. Through our Lord Jesus Christ, your Son, who lives and reigns with you in the unity of the Holy Spirit, God, for ever and ever. AMEN.
Reading I Ez 17:22-24
Thus says the Lord GOD: I, too, will take from the crest of the cedar, from its topmost branches tear off a tender shoot, and plant it on a high and lofty mountain; on the mountain heights of Israel I will plant it. It shall put forth branches and bear fruit, and become a majestic cedar. Birds of every kind shall dwell beneath it, every winged thing in the shade of its boughs. And all the trees of the field shall know that I, the LORD, bring low the high tree, lift high the lowly tree, wither up the green tree, and make the withered tree bloom. As I, the LORD, have spoken, so will I do.
Reading II 2 Cor 5:6-10
Brothers and sisters: We are always courageous, although we know that while we are at home in the body we are away from the Lord, for we walk by faith, not by sight. Yet we are courageous, and we would rather leave the body and go home to the Lord. Therefore, we aspire to please him, whether we are at home or away. For we must all appear before the judgment seat of Christ, so that each may receive recompense, according to what he did in the body, whether good or evil.
Gospel Mk 4:26-34
Jesus said to the crowds: "This is how it is with the kingdom of God; it is as if a man were to scatter seed on the land and would sleep and rise night and day and through it all the seed would sprout and grow he knows not how. Of its own accord the land yields fruit, first the blade, then the ear, then the full grain in the ear. And when the grain is ripe, he wields the sickle at once, for the harvest has come." He said,
"To what shall we compare the kingdom of God, or what parable can we use for it? It is like a mustard seed that, when it is sown in the ground, is the smallest of all the seeds on the earth. But once it is sown, it springs up and becomes the largest of plants and puts forth large branches, so that the birds of the sky can dwell in its shade." With many such parables he spoke the word to them as they were able to understand it. Without parables he did not speak to them, but to his own disciples he explained everything in private.
Please click on the video link below to watch the homily for this week.
The Prayers of the Faithful
For God's holy people, that the witness we provide to the world may enable the kingdom of God to flourish and grow so that all living things may dwell in peace and harmony in its shelter.
We pray to the Lord. LORD HEAR OUR PRAYER.
For leaders of nations, that they champion those who toil for justice and nurture peace so that the seeds of justice and peace may bloom and ripen the world over.
We pray to the Lord. LORD HEAR OUR PRAYER.
For all of us, that the Holy Spirit will lead us to recognize the value of life and guide us in upholding the dignity of every human life.
We pray to the Lord. LORD HEAR OUR PRAYER.
For all who have been affected by COVID19, may God's healing presence be comfort to them and bring health and well-being.
We pray to the Lord. LORD HEAR OUR PRAYER.
For the departed, who remain with us in our prayers and our memories, and for the promise of a joyful reunion, and especially for +Kevin E. Pearson
We pray to the Lord. LORD HEAR OUR PRAYER.
Stewardship of Saint Andrew Parish is the responsibility of us all. Consistently throughout the year, we remind parishioners about stewarding the gifts of Time, Talent, and Treasure to support the mission of Saint Andrew Parish.
During this pandemic, there are many urgent needs, among those needs are caring for the financial obligations of Saint Andrew Parish. If you do not regularly contribute electronically ether weekly or monthly, please consider making a Sunday Offering online through Give Central through the link below.
Sometimes, receiving Holy Communion is not possible. Catholics in these cases are encouraged to make "Spiritual Communion." St.Teresa of Jesus wrote about this practice:
"When you do not receive communion and you do not attend Mass, you can make a spiritual communion, which is a most beneficial practice; by it the love of God will be greatly impressed on you"
You can make Spiritual Communion by the bringing this prayer to your heart…
"My Jesus, I believe that you are in the Blessed Sacrament. I love you above all things, and I long for you in my soul. Since I cannot now receive you sacramentally, come at least spiritually into my heart. As though you have already come, I embrace you and unite myself entirely to you; never permit me to be separated from you. Amen."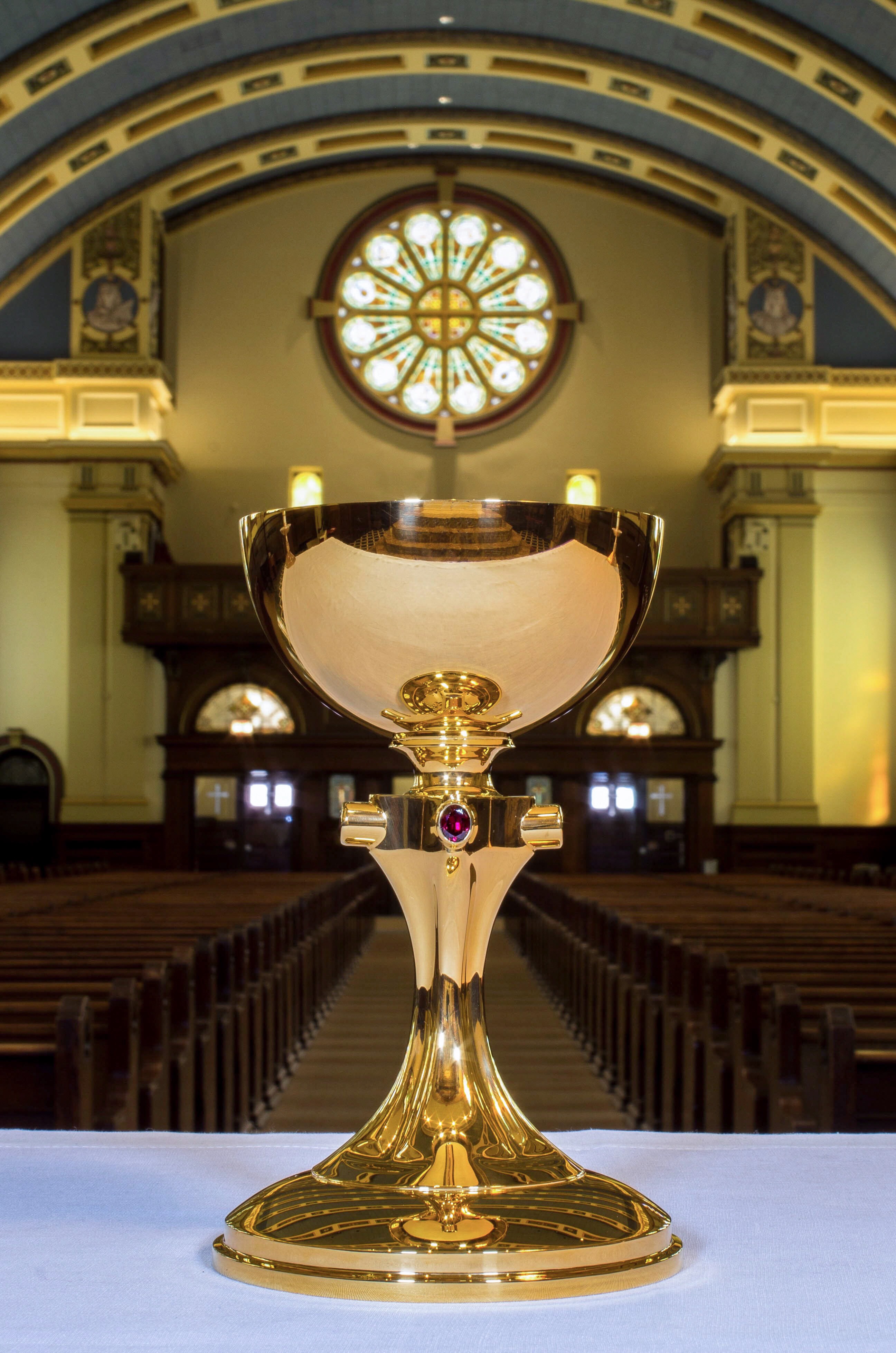 Through our participation in Holy Communion, O Lord, may it bring about unity in your Church. Through Christ our Lord. AMEN.
In addition to 
Your Sunday Connection
 provided by Saint Andrew Parish, the Sunday 9:00am Mass will be live streamed. 
Join the broadcast.